the month of december is finally upon us and it means that all my desires/wants can be shared and i dont have to feel so guilty for wanting so much stuff. heres the beginning of my list. i dont necessarily need or want every single item but since its the holiday season, i have a very loose/generous rules about things i want/need. as long as i like them or they are worthy of my eyes to stop and my brain to ponder-wonder, then its on the list. SO, here they are. i think these items would make a great gift for YOU, YOUR MOM, YOUR FRIENDS, YOUR GF, YOUR BFF, YOUR SECRET CRUSH, YOUR IDOL, or simply just me. (confession: when making wish list type deal, i always rather have someone that i dont really know well to give it to me since i wouldnt feel so bad that they are spending all this money to get me my wants. does that make sense? if its someone like my close family, i would rather they spend the money on themselves. SO, with that said, i guess this is truly a wish list because who and what someone who i dont really know would go and buy me things??!!! SANTA? are you out there reading me blog?)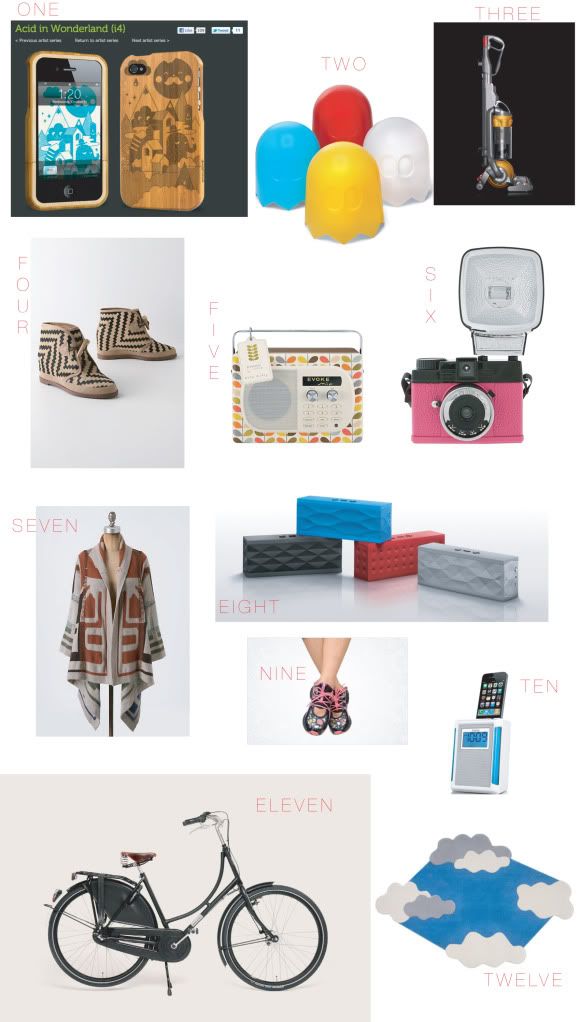 ONE: iphone4 bamboo case by
grove
. i would like to customize my own. but right now its only available for iphone4 and if i were given this case, he/she needs to buy me an iphone4 as well.
TWO:
ghost lamps
. they are supercute. i can use it or my little dude could use it if he fancies it.
THREE:
dyson DC25 All Floor
. do i really need to say anything more. i wont be me if i dont obsessed about vacuum. i REALLY TRULY WANT a dyson and this is the one i want to start with. seriously, i want it. if you read this blog, you know ive been wanting a dyson for a long long long time.
FOUR:
BOLD-STEPPING BOOTIES
. toggle. i want everything in toggle. everything toggle i want.
FIVE:
Orla Kiely's radio
. i posted about this before and i am posting it again. I DO LIKE IT. I MEAN I LOVE IT.
SIX:
Diana Mini En Rose.
SEVEN:
Yuma cardigan.
i like the pattern and i would wear it with the bold-stepping booties (wish list item FOUR). i do i do like it.
EIGHT:
Jambox from Jawbone
. i want one or two or in all colors just so i can say it out loud to people that i have a jambox from jawbone.
NINE:
ASICS x Sanrio 50th anniversary sneaker
. i dont love it but for some reason i am feeling it and wouldnt mind kicking these kicks around. they are kinda ugly but yet i am liking the no socks with these kicks look. why not i say. size 8 please.
TEN:
iP40 FM Alarm Clock Radio
. just nice to have in the bathroom or in the kitchen.
ELEVEN:
WorkCycles Oma
.
TWELVE:
Piece of Sky Rug
.